More and more travelers from across the globe pack their bags and head to the world's largest country for the winter holidays. Why might you ask? To get a piece of Russia's one-of-a-kind overwhelming winter spirit!
There's more to do in winter Russia than just eating pierogi and going shapka-ushanka shopping, so book Russian rail tickets ahead of time and use this handy list of entertaining Russian winter activities to make your trip even more unforgettable!
Ice-Skating on the Red Square
It's no surprise that Moscow's famous Red Square is on the top of the must-do list. What you probably didn't know is that during the holiday season this central beauty is also home to the annual open-air ice-rink. Traditionally it is available from the end of November until the end of February and you can go skating from 10 a.m. to 11:30 p.m. It costs around 10 USD for 1-hour of skating, plus skates are available for rent.
Swish away to the beat of retro Soviet songs and holiday melodies in the surroundings of the St. Basil's Cathedral, the illuminated GUM department store, the beautifully decorated Christmas tree and, of course, the attributes of the Winter Market.
Going Vodka Tasting
A great and fun way to deal with Russia's chilly winter weather is to go Vodka tasting. No matter which city you choose for your winter getaway to Russia, many places will offer special menus or even tours to taste different types of this Russian national spirit drink.
In St. Petersburg, for instance, the popular Russian Vodka Room No. 1, as well as the Vodka Museum, offer to try high-quality vodka produced in different regions of the country. Certainly, you'll be treated to traditional Russian snacks too. Bottoms up!
Traditional Troika Ride
A ride on the traditional Russian Troika sleigh with three horses is definitely a winter experience to remember! Enjoy the views of the Russian countryside as you dash as quick as the wind on an adorned three-horse carriage past the snowy landscape.
Such an activity is available in many places across Russia, such as in Central Moscow Hippodrome, St. Petersburg's Pavlovskiy Park or several places on the outskirts of Ekaterinburg. The duration of the ride is from 15 minutes to 1 hour, depending on your preferences.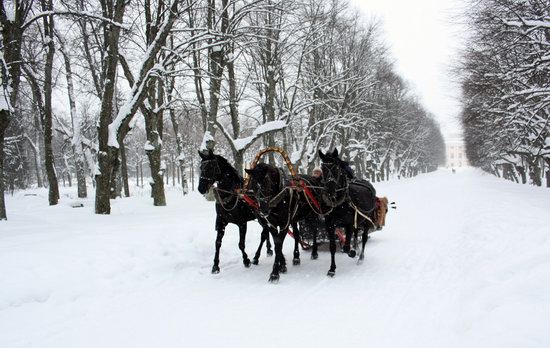 Ice-Fishing on Lake Baikal
Those dreaming to see the world's deepest freshwater lake, Lake Baikal, may be in for a surprise as this body of water freezes entirely during winter, making it an even more unusual place to visit. The phenomenally beautiful lake becomes covered with a meter-thick sheet of crystal clear ice and it is even possible to see through it underwater.
Depending on the temperature many enthusiasts even use the lake top as a freeway and ride on it on 4×4 jeeps, snowmobiles, and cars! For a more relaxed pastime, going sledding or winter ice-fishing are other popular winter leisure option on Baikal. The best way to travel to Siberia is doubtlessly on trains, so getting Russian train tickets ahead of time is advisable.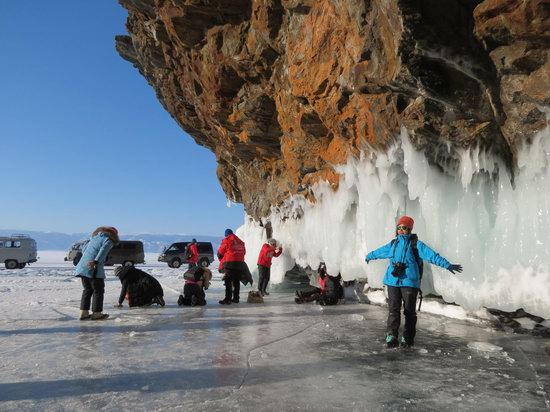 Chill Out in a Russian Banya
Visiting a traditional Russian banya bathhouse is both an interesting experience and a way to sit back and relax. Not only will you unwind and feel entertained, but you will surely get a better insight into Russian culture. The banya ritual goes centuries back and includes staying in a hot dry steam room with wooden benches and flapping one another with besoms made of natural birch tree branches and leaves.
After the procedure, the braver ones topple over a bucket of cold water on themselves or even dive into a pool of cool water (or into a nearby pile of snow)! This isn't obligatory, of course, but is one bit of a comical sight to watch. There are many banyas in all towns across Russia so you can surely visit one during your trip.
Have a Russian Tea Party
Russian tea drinking traditions have long become a popular image of the country with the samovar kettle as the table's centerpiece, sweets and ring-shaped cracknels. During your journey, you may take a break from sightseeing in a cafe and have some classic tea.
In Moscow, for instance, try going to Cafe Pushkin or the Lucien Restaurant for a pleasant experience. If you're traveling to Kazan, try going to the Museum of Chak-Chak where you can taste the traditional Tatar sweets and have tea from a samovar too.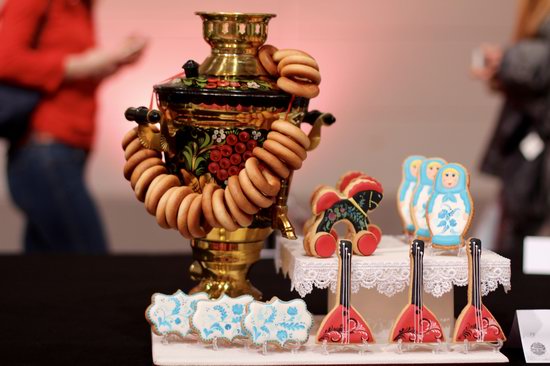 The best way to travel in Russia in winter is without a doubt on trains, which depart without delay even on very snowy winter days. To make the travel planning process easier, book your rail tickets on Russian train tickets and enjoy your jolly stay in Russia.
Tags: No tags
<< Educating Readers in the USSR in 1926-1929
No comments yet.