Salekhard is a city with a population of about 49 thousand people, the administrative center of the Yamalo-Nenets Autonomous District. It is the only city in the world located directly on the Arctic Circle.
It was founded as a Cossack fort of Obdorsk in 1595. At the beginning of the 19th century, the fortifications were demolished, and Obdorsk turned into a village. In 1933, it received a new name – Salekhard, which in translation from the Nenets language means "settlement on a cape". Photos by: Slava Stepanov.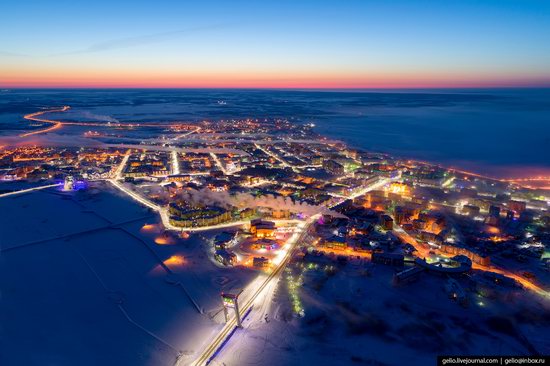 Stela "66th parallel" installed on the line of the Arctic Circle.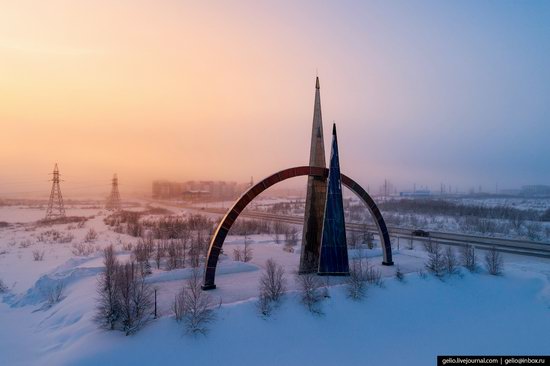 Government of the Yamalo-Nenets Autonomous District.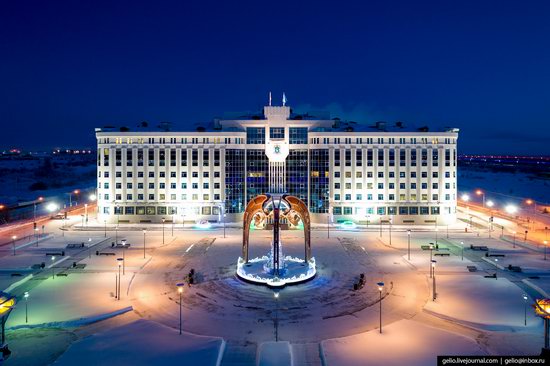 Salekhard City Hall.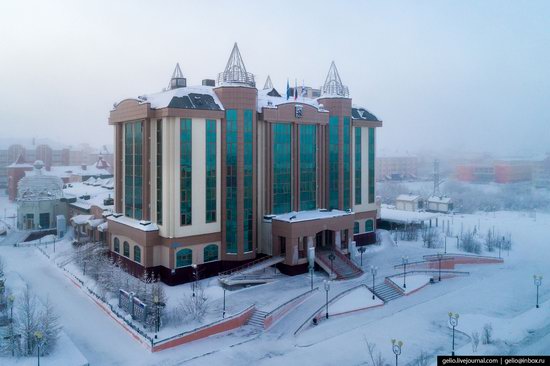 The time difference with Moscow is +2 hours.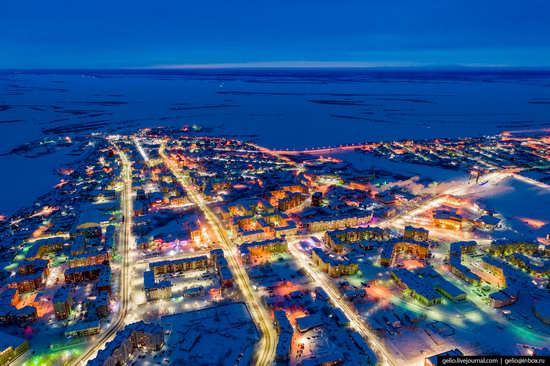 Bridge "Fakel" ("Torch") across the Shaytanka River. It was built to connect the city center and the airport in 2004. Due to its unusual design, the bridge has become one of the symbols of the Yamalo-Nenets Autonomous District.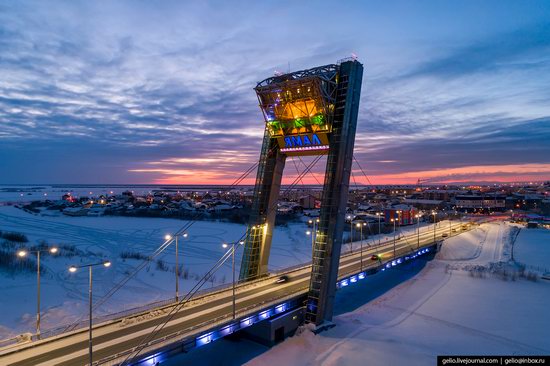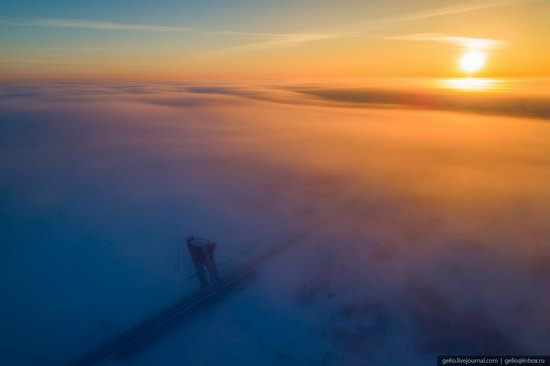 Night lights of Salekhard.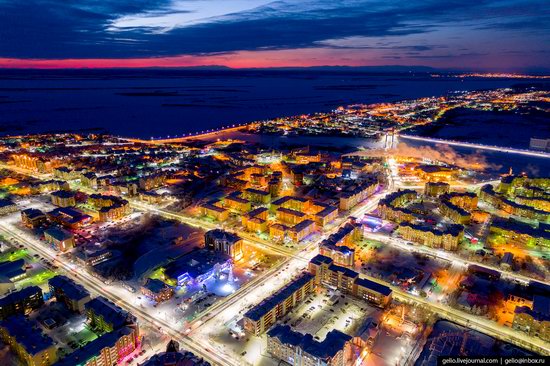 Residential buildings with towers on Republic Street.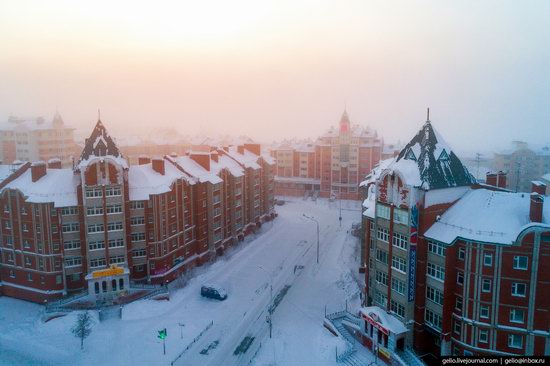 Cultural and business center with a concert hall.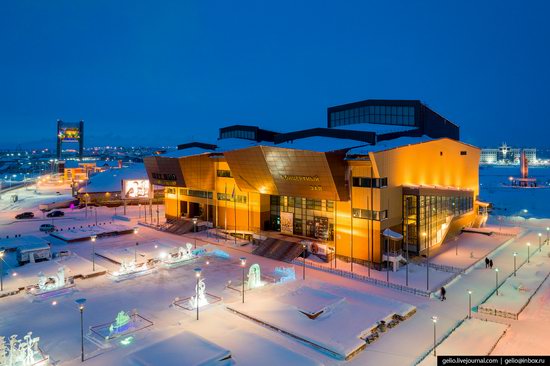 Panorama of Salekhard. From all sides the city is surrounded by rivers and endless tundra.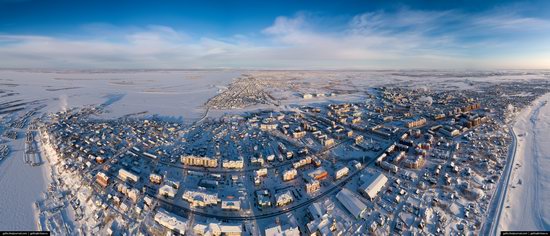 Obdorsk fort – a replica of a wooden fort of the 16th century.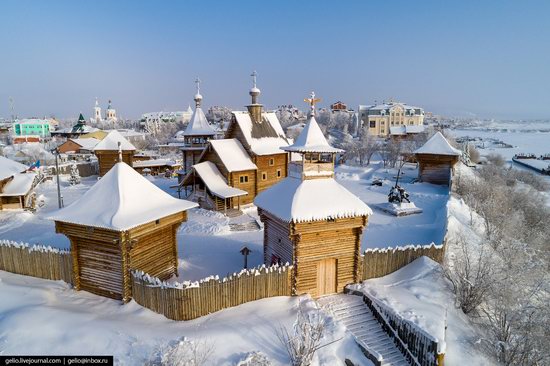 Dense snow cover lasts up to 200 days a year in Salekhard. The average annual air temperature here is −5.7 degrees Celsius.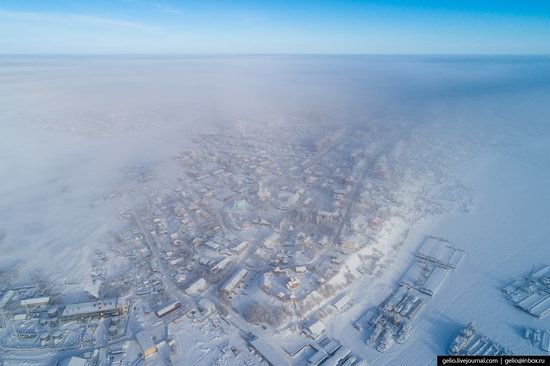 Church of Saints Peter and Paul (1894) – the oldest church on Yamal.
Port of Salekhard.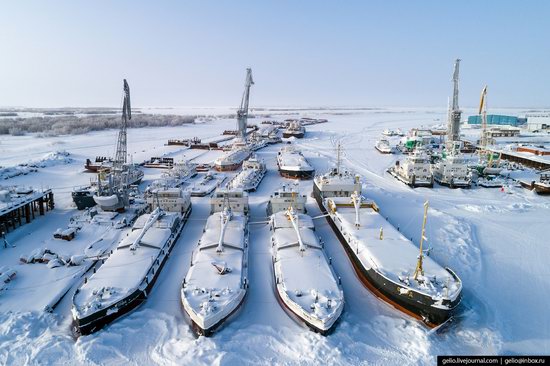 Over the past 15–20 years, a lot of new modern buildings were built in the central part of Salekhard.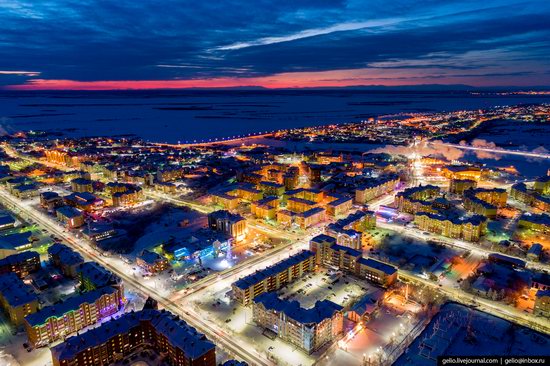 Bright colors of Salekhard.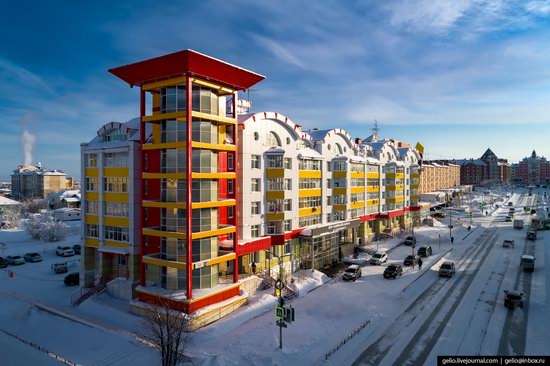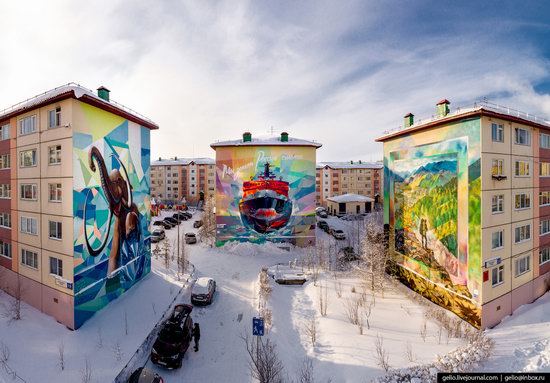 Microdistrict "Arctic". Also there are "Polar", "Northern" and "Lingonberry" microdistricts in Salekhard.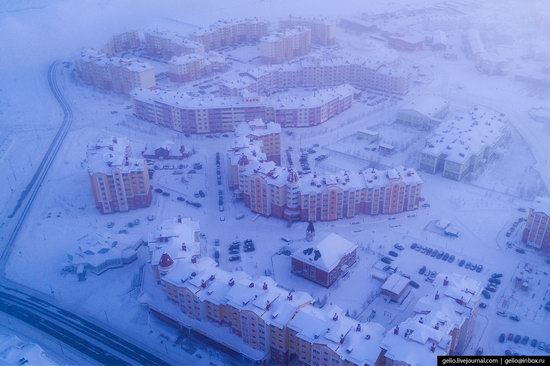 Yamal multidisciplinary college.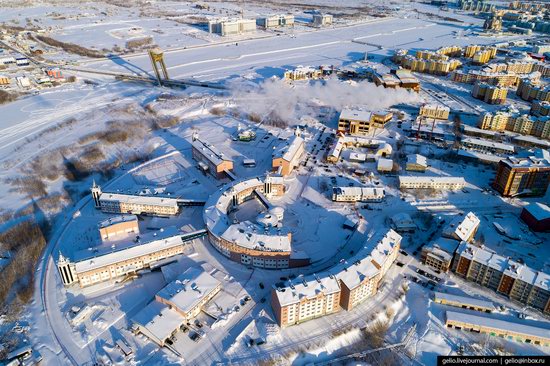 In Salekhard there is no real polar night, but there is a polar day. The upper edge of the sun does not set below the horizon for a whole month from June 7 to July 7.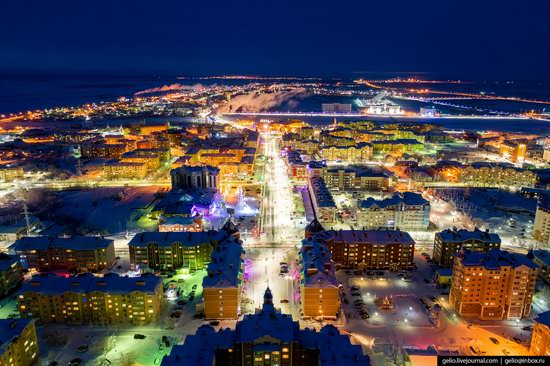 Victory Park – the largest memorial complex in the Urals Federal District. Here you can see the pantheon, the chapel of Alexander Nevsky and the exhibition of military equipment.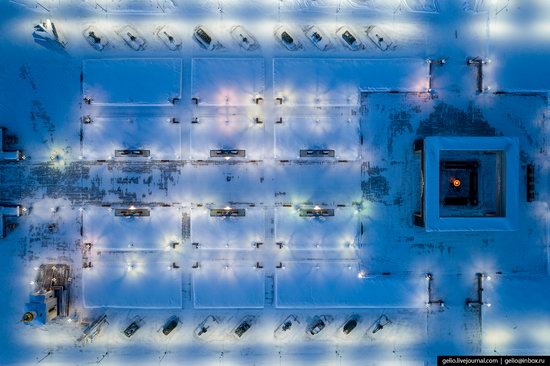 Frosty morning in Salekhard.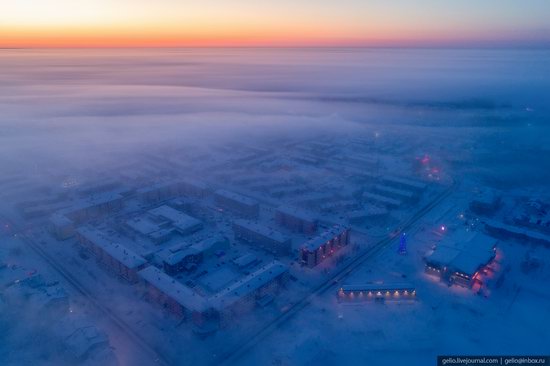 Transfiguration Cathedral under construction.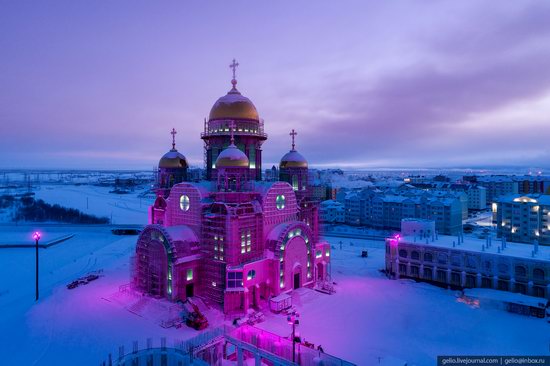 Republic Street and Lenin Square.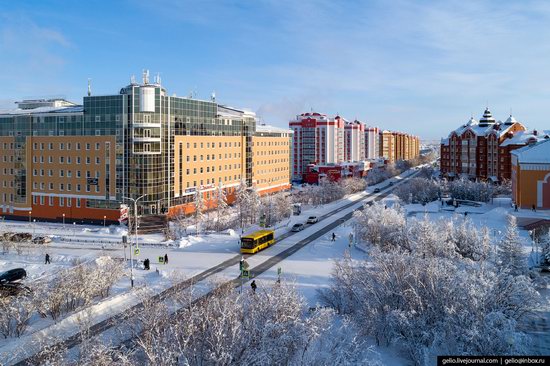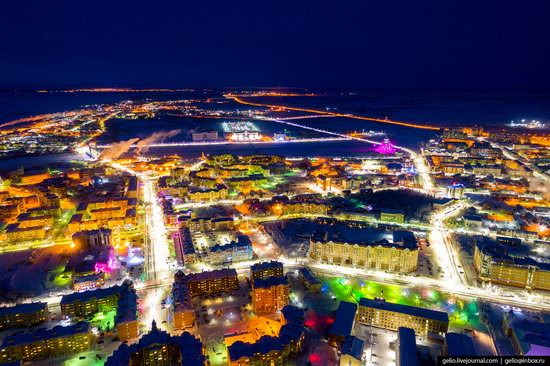 Lenin Monument.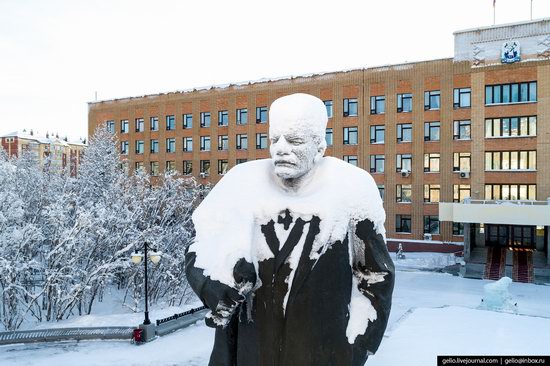 Memorial "Construction #501", which is also called the "The Road to Nowhere" or "The Dead Railroad".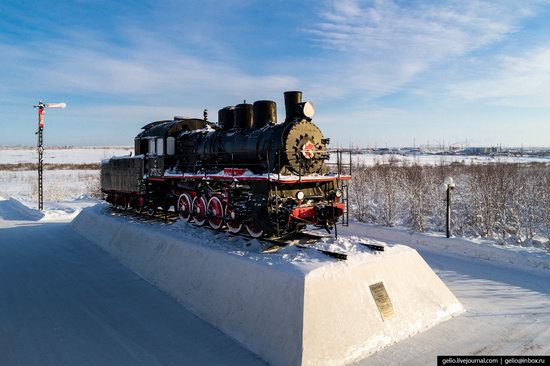 Sculpture "Mammoth" at the entrance to Salekhard, near the river crossing.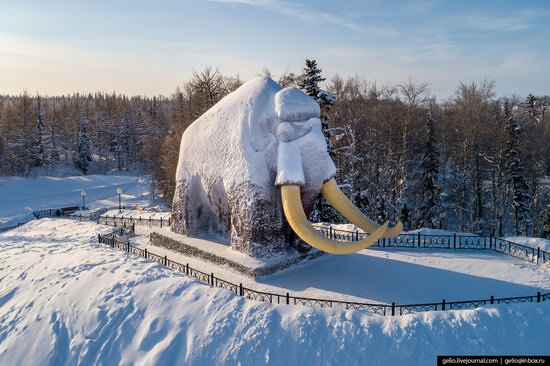 Ice crossing over the Ob River, which connects Salekhard with the "mainland".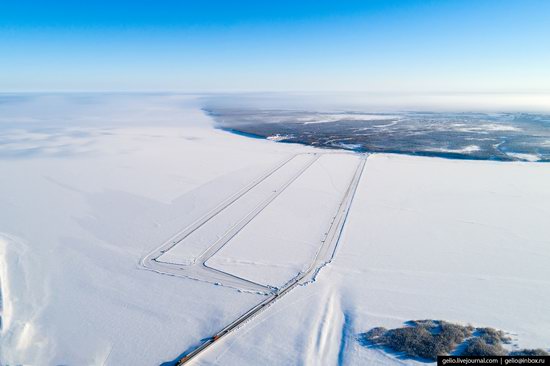 Tags: Salekhard city · Yamalo-Nenets okrug
<< Evening in snow-covered Yaroslavl
No comments yet.