Saint Petersburg is not only about a pompous European architecture and prim, but merry Petersburgers. It is also a beach resort. Sounds weird? And what in Russia is not weird?
The resort area stretched a narrow strip along the shore of the Gulf of Finland. Here are the best sandy beaches, wide and beautiful, and the smell of the sea is mixed with the scent of pine trees. In the resort villages – Sestroretsk, Repino, Komarovo, Zelenogorsk – there are popular sanatoria, country hotels and restaurants. Photos by: Anton Putyatin.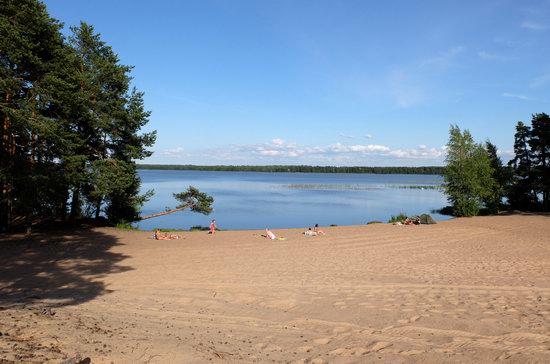 Petersburgers like to relax on the beaches of the resort area. And if you are a tourist, you need to understand one thing to have a good rest: the Gulf of Finland is not suitable for swimming. It is very shallow, the bottom is sometimes stony, in the high season the sea blooms, and most importantly – because of the poor quality of water, swimming in the Gulf of Finland is usually prohibited by the city authorities.
The beaches of the St. Petersburg suburbs are created in order to sunbathe, organize picnics, play volleyball, walk, breathe fresh air and admire the beautiful views.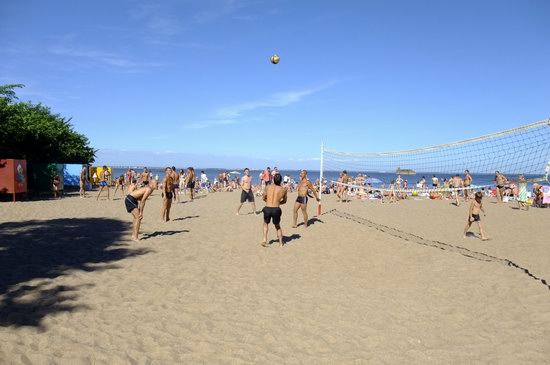 All beaches are free and have a good infrastructure. Here are the most popular of them.
The Golden beach is located in the green park of culture and recreation. Windsurfers often practice here. Near is the yacht club and a country hotel Terijoki. On the beach there are benches, changing cabins, and comfortable walkways to get to the beach and do not put sand in your shoes.
The coastal zone of the village of Komarovo, sung in a famous Russian song, stretches for more than three kilometers. Wide beaches, bounded by pine groves, are adjacent to Zelenogorsk highway. This is a plus because it is convenient to get to the beach and minus because there are too many of those who want to relax and fry a shish kebab on the shore of the Gulf of Finland in extremely sunny weather.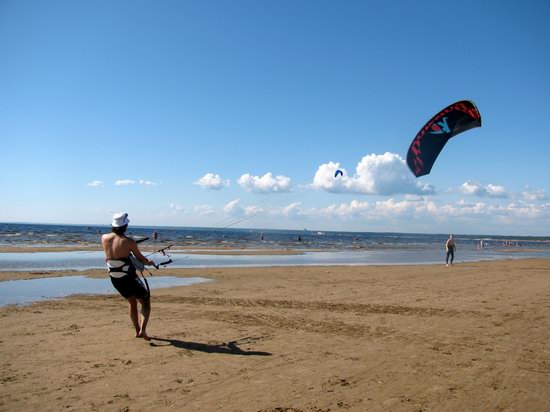 Near Komarovo there is also Lake Shchuchye with a nice beach and clean water: here you can not only sunbathe, but also swim. However, there is no need to hope for a quiet rest on the weekends – there will be too many people who want to swim. But it's nice to be here on a weekday. A dirt road runs around the lake, which is great for cycling.
In the village of Solnechnoye there is a famous beach "Laskovy": clean and well-groomed, with soft fine sand and necessary beach infrastructure – there are children's and volleyball courts. The concrete path leads to the sea, the beach is decorated with sculptures. The beach is large, tourists often rest here with tents.
A large and beautiful beach is located in Sestroretsk near the park "Dubki": there are children's slides, cabins for changing clothes and so on. Plus, you can walk around the park and admire the centuries-old oaks.
On the "Wonderful beach" there are benches, changing cabins and a volleyball court. There are fewer tourists here, so this is a good place for philosophical walks. It is also convenient to put a tent here so as not to attract attention and have a rest in cozy atmosphere.
Petersburg is a diverse and extremely unusual city. If before you could not imagine that the phrases St. Petersburg and beach resorts can be in one sentence, we suggest that you immediately change this.
Here you can enjoy magnificent Russian and oriental cuisine, play sports, reflect on the eternal in the shadow of evergreen oaks, or meet Russian girls who will gladly take you on a short excursion and become your merry companions.
Tags: No tags
<< Nenets Reindeer Herders of Yamal
No comments yet.