Catherine's Palace is the former imperial palace, one of the largest in the vicinity of Saint Petersburg. The palace is located in the town of Pushkin (formerly Tsarskoye Selo), 25 km south of St. Petersburg.
The architectural trends of each era the palace survived, and personal predilections of Russian rulers of the time were reflected in the history and architecture of the palace. The palace was built in 1717 under the direction of German architect Johann Friedrich Braunshtein as the summer residence of Empress Catherine I.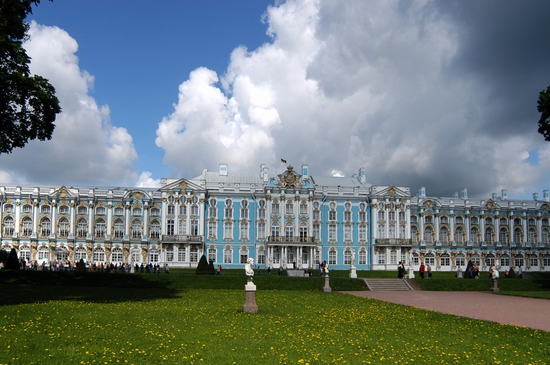 In 1743, Empress Elizabeth asked Russian architects Mikhail Zemtsov and Andrey Kvasov to expand the palace. At the time of Empress Elizabeth the palace acquired its present form and style.
In May 1752, she asked the architect Francesco Bartolomeo Rastrelli to rebuild the palace again, because it felt too old-fashioned and small. After grandiose reconstruction that lasted four years the present palace appeared, built in style of Russian baroque.
In Soviet times, the museum was opened in the palace. During the Second World War the palace was heavily damaged. The restoration took many years and continues to this day.
Tags: Leningrad oblast · Saint Petersburg city
<< Abandoned wooden house from the fairy tale
No comments yet.