Russia's World Cup 2018 has been and gone. On the whole, it was deemed a huge success, with football fans from all four corners of the world visiting Russia for a genuine celebration of football. All 12 of the stadiums used at the World Cup 2018 were built or renovated in some way, at a cost of $2.8 billion.
Unfortunately, there is a fear that some of the stadia will become 'white elephants' in the months and years ahead, given over to football clubs that don't have anywhere near enough supporters to fill them. However, there are some new stadia that will be well-used, providing the perfect legacy for generations of Russian football fans.
Let's take a look at the biggest and best stadia that will be put to good use in Russia's domestic season.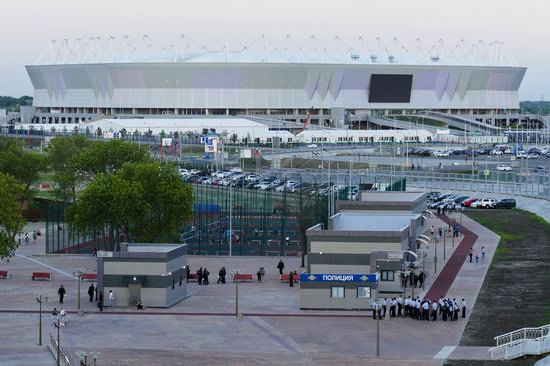 "Police at the Rostov Arena" (CC BY 2.0) by Maxence Peniguet
Rostov Arena: On the banks of the Don River
Completed late last year, the Rostov Arena is a brand-new stadium overlooking the banks of the Don River. It's certainly an impressive setting, with its striking rooftop visible for miles. Plans have been put in place to cut the capacity of the stadium from 45,145 to 40,000 post-World Cup 2018, with FC Rostov now boasting a new home and a bright future.
Some three years ago, Rostov came close to snatching their first ever Russian league title and they will be hoping that a new stadium can cement the club as a force domestically.
Saint Petersburg Stadium: A chance to make Zenit a European force
One of the most expensive new stadiums in Russia, the Saint Petersburg Stadium cost the government a reported $1.5 billion, with some officials labelling it the world's most expensive stadium. Its spaceship-style aesthetics make it look something like the Allianz Arena in Germany. The stadium was open for business from April 2017 and Zenit St Petersburg have been playing here ever since.
Zenit have been flirting with cementing themselves at the top table of European football and will be hoping this new home will eventually provide the ideal foundation for long-term success. Zenit didn't qualify for this season's Champions League, with Spartak Moscow flying the flag for Russia, and the latest Champions League football betting has them 350/1 rank outsiders to lift the coveted trophy.
Samara Arena: A new home for the 'Wings of the Soviets'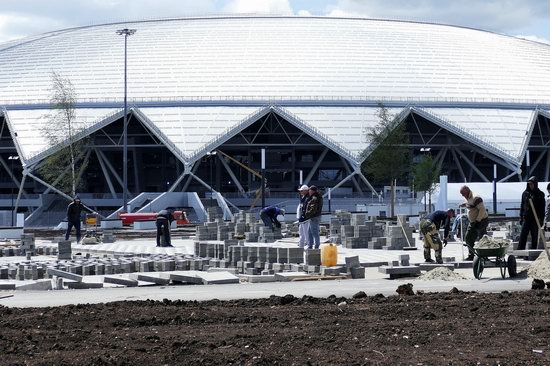 Samara Arena (CC BY 2.0) by Maxence Peniguet
The Samara Arena looks akin to London's O2 Arena from the outside, with its glass dome providing a spectacular canopy for the action on the pitch. Completed in April this year, it will be home this season to Krylia Sovetov, who are back in the Russian Premier League and have been looking to leave their dated Metallurg Stadium for some time.
Krylia sold-out their opening day goalless draw with CSKA Moscow, which bodes well for it becoming an exciting new home for the 'Wings of the Soviets'.
A nod to the white elephants
Undoubtedly the biggest white elephant to come from the 2018 World Cup is Sochi's Fisht Stadium. It's a venue that played host to the Winter Olympics in 2014 but then promptly sat unused until this summer. Dinamo St Petersburg have opted to move their club 1,500 miles to take residency in the Fisht Stadium this season. However, in doing so, they will lose a lot of their fanbase, with crowds expected to be exceptionally low.
The Mordovia Arena also runs the risk of being something of a white elephant, with new residents, Mordovia Saransk lacking the fan base to make this stadium a success.
Tags: No tags
<< Rostov Boris and Gleb Monastery in the Yaroslavl Region
No comments yet.