To find university programs in Russia, foreign applicants should focus on two factors. First, they need to select the programs that are available in English. Second, they should check the positions of the university in international ratings. This article contains examples of top Russian university programs for foreigners. People of any age and background might try to join them.
The Specifics of University Programs for Foreigners in Russia
In selected institutions, applicants don't need to pass entrance exams. A video interview in English is enough to enroll in a master's program. To enter a university, a foreigner should present a TOEFL or IELTS certificate. Also, they need to provide a motivational letter and a high school certificate or diploma.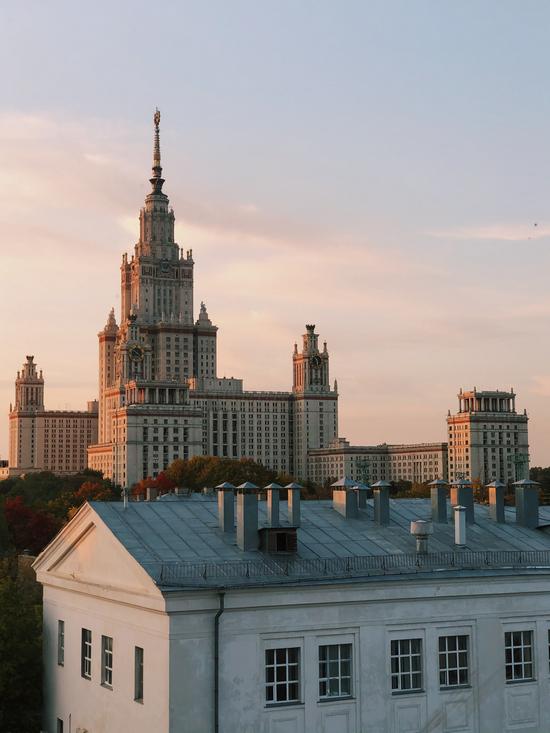 In Russia, you'll hardly find a university program that is available only in English. Most programs for foreigners duplicate the structure and contents of their Russian originals. English programs exist in any educational field. It can be business, natural sciences, art, or history.
Students who come from abroad often ask: is it difficult to study in Russia? What if they get expelled in a few months? University teachers in Russia might be more demanding than in some other countries. Yet, they try to be a bit more permissive and understanding to foreign students. Also, one might consider using the paper writer review to get good grades.
Below in this text, there is a selection of the best programs at top Russian universities. Some of their teachers are native English speakers. Others are Russians with a perfect command of English. These programs should enable foreigners to land interesting and well-paid jobs.
National Research University "Higher School of Economics"
Foreigners can choose from bachelor's and master's degrees, MBA, or short online courses. The graduates will be able to land the most exciting jobs and get competitive salaries.
The Russian Studies program, launched in 2019, is especially popular among foreigners. It helps them understand the business, economics, and politics of modern Russia. A master's degree in data science also attracts many English-speaking people. It focuses on the development of mathematical algorithms and models. Students will master data manipulation and the examination of machine learning technologies.
Some foreign applicants fail to pass the admission exams on the first attempt. To get study help and access to EssayPro reviews on essay-reviews.com, they can join the English Preparatory Program in Economics. It will enable them to get ready for the second attempt and get used to life in Russia. Also, this school helps people from other countries adapt to Russian life.
Saint Petersburg Electrotechnical University
Since 2020, it offers the Heritage Science program. This program produces qualified technical specialists in restoration and museum work. Its primary competitive edge consists in the usage of innovative non-invasive technologies. Professionals need them to analyze the state of cultural monuments and preserve them.
International students also value the renewable solar energy master's program. Its main focus is solar module technologies development. Students will concentrate on the material science of photovoltaic equipment and physical principles. Graduates will be able to build and maintain solar power plants. They will develop advanced technologies in renewable energy.
National Research State University of Nizhny Novgorod
Fundamental informatics and information technology is the most popular English bachelor program. Its graduates join the teams of leading global tech giants. They develop new information technologies and apply them in design and engineering. Plus, they conduct research in the area of theoretical informatics. They build cutting-edge IT services, products, and systems.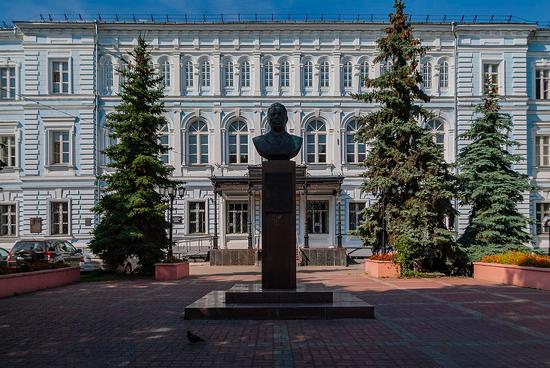 © Alexey Trefilov, WikiCommons
Peoples' Friendship University of Russia
The government built this university for foreigners. People from all regions of the planet come here to study. They can choose from more than 800 educational programs of all levels, from bachelor's to Ph.D. If foreigners find it difficult to adapt to Russia, they can find a tutor or a local guide.
Here, one can study international business and international protection of human rights. Those who enjoy reading specialize in English and Russian literature. International private law, medicine, and political science also attract many international students. PR, translation, and many other specializations are available too.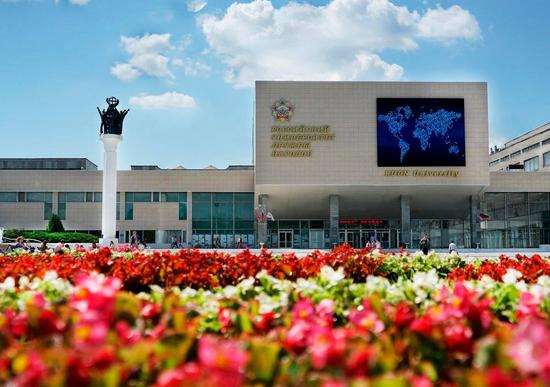 Siberian Federal University
One of the most exciting master's programs here is digital intelligent control systems. Students will get to know how to develop embedded intelligent control systems. These solutions will rely on data exchange and neural networks.
Another worthy option is the master's program in petroleum chemistry and refining. Its graduates can make impressive careers in private or public gas and oil companies. They will become experts in the development and modernization of mining technologies. They will be ready to work in any conditions, including the Far North.
The main challenge for international students might be the language. Not everyone in this country speaks English. In Moscow or Saint-Petersburg, many residents understand foreign languages. But if students are planning to travel, they should learn basic Russian. When visiting the cities and towns of Siberia, one shouldn't rely only on English.
The University of Tyumen
Its School of Advanced Studies features seven bachelor's programs in English. These include applied information science, biology, arts, and humanities. Economics, history, sociology, and media and communications are available too. The graduates can get master's degrees at the Skolkovo Moscow School of Management. It's the official partner of the University of Tyumen.
Ural Federal University
Foreigners come here to study advertising and PR, astrophysics, biotechnology, and computer science. Design, economics, international management, IT, personnel management, philosophy, and psychology are popular too. International students sometimes find it difficult to write essays in Russian universities. To cope with this challenge, they might consider using profile apps – this should be a sure way to get good grades.
Final Thoughts
In Russia, international students can get a top-notch education in any field. It will allow them to kick-start excellent careers. They will be able to work in Russia, their homeland, or any other region. Universities and programs from this article can serve as top examples. Apart from them, dozens of other options are available for foreign applicants.
Tags: No tags
<< Top 3 Most Beautiful Places in Russia That Everyone Should Visit
No comments yet.