The cultural capital of Russia has so much to offer that more than 8 million people visited the city in 2017, and the numbers are growing. Some choose St. Petersburg as the first stop of their Russian holiday and only have time to visit the most iconic buildings and monuments of St. Petersburg, others decide to dedicate some time to explore the less-touristy spots in the city.
To encourage and facilitate international tourism, the Russian government has even launched a new electronic visa system that will allow foreign travelers to apply for an eVisa for St. Petersburg entirely online before leaving for Russia. There has really never been a better time to visit St. Petersburg.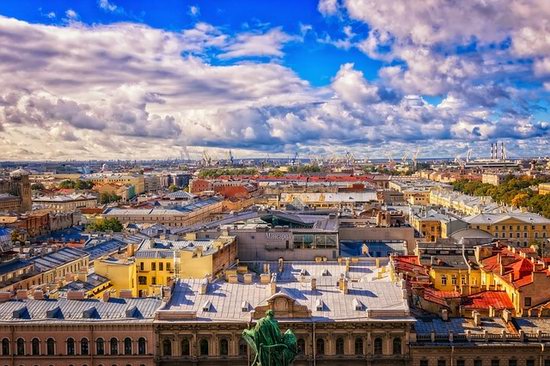 In this short guide, you will find a range of advice and tips on things to see and do in St. Petersburg depending on your taste and time, including:
St. Petersburg's must-see for short stays
Lesser-known St. Petersburg attractions to avoid crowds
Free things to do in St. Petersburg for a Russian holiday on a budget
Things to do in St. Petersburg at night for the night lovers.
Must-See in St. Petersburg: Things to Do in St. Petersburg in a Short Time
Whether you're heading to St. Petersburg for a long weekend or you plan to land here before starting your Russian adventure, it's not unusual to only spend a few days in the city.
Although there's no short answer to the "How many days do you need in St. Petersburg" question, here's a short list of must-see iconic sights in St. Petersburg:
The Palace Square and Hermitage Museum. These are perhaps the most famous places in the city. Many of the most important events in Russian history took place here, including the October Revolution. From the Palace Square, you'll be also able to admire the facade of the famous Winter Palace, the official residence of the Russian Tsars from 1732 to 1917.
The Hermitage is one of the world's most known museums, and with good reason. Its collection includes over 3 million items and is displayed across several buildings. It would take days to see it all so it's advisable to plan your itinerary in advance according to your interests – from primitive art to the Imperial family's collection, from the works of Michelangelo and Tiziano to Rembrandt and Goya, there's something to make all jaws drop.
Church of the Savior on the Spilled Blood. A short 15-minute walk from the Hermitage, the 5-domed building is the most elaborate church in St. Petersburg. It took 24 years to build it and is decorated with over 700 square meters of mosaics.
The Mariinsky Theater. The Mariinsky theater is a world-class must-see for lovers of the opera and ballet. The interior is breathtaking, a true testament to the imperial grandeur. Ballet legends the like of Nijinsky, Nureyev, Pavlova, and Baryshnikov danced here and a show at the Mariinsky indeed makes for a night to remember.
Tourists with limited time are highly encouraged to buy tickets online for their favorite attractions. It's a guaranteed way to avoid long queues and save precious hours.
Non-Touristy Things to Do in St. Petersburg
There are plenty of unusual and non-touristy things to see and do in St. Petersburg that you won't find in most tourist routes and itineraries. Here are a few examples:
Explore St. Petersburg from its rooftops. The view of St. Petersburg from above is unmatched. Although it may take some research on social media to find them, there are groups of locals who run rooftop tours that will guarantee you a different point of view over the city and the most breathtaking photos to show your friends at home.
Discover all things artsy on Holland Island. This island that visually reminds of the Dutch canals used to host a radio station, a uniquely-shaped prison, and Mendeleev's lab. Now, you'll find showrooms, lectures, open-air performances and cinemas, and an ice-skating rink – not to mention the famous floating flamingos at the local artificial beach.
Wander around Kolomna District. The historical Kolomna District is usually overlooked by most tourist crowds. However, here you'll find a neighborhood of real Russian character (by many described as 'the soul of St. Petersburg') that was once home to Alexander Pushkin and a 19th-century Jewish Quarter.
Free Things to Do in St. Petersburg
Not all the best memories of a holiday in St. Petersburg will come at a price. The city itself will constantly surprise you with picturesque corners and gorgeous views as you walk around. However, some all-time favorite free attractions in St. Petersburg are:
The Peterhof Gardens. The UNESCO World Heritage Site Peterhof complex is often labeled as the Russian Versailles. Although you'll need to purchase a ticket in order to enter the palaces, visitors can walk the royal gardens for free. You can easily spend hours admiring the gorgeous fountains, golden statues, and perfectly kept gardens.
The Russian National Library. Perfect for a rainy day, the National Library is free to enter and hosts one of the largest book collections in the world, which includes Catherine the Great and Voltaire's personal libraries and the Ostromir Gospel, the most ancient book written in the Russian language.
Modern art galleries. Most galleries of modern and contemporary art don't charge for admission in St. Petersburg. Check out Anna Nova, Marina Gisich, Art Re.Flex, KGallery, Bulthaup, and Name Gallery for the best that progressive art has to offer.
What to Do in St. Petersburg at Night
Night owls will find plenty to do in St. Petersburg after dark. St. Petersburg is also considered a very safe city for travelers. Just remember to take standard precautions, such as being aware of pickpockets and avoiding to visit the outskirts of town alone at night.
Among the best that St. Petersburg nights have to offer are:
The drawbridges. Originally, St. Petersburg was a naval and port town. Today, hundreds of boats and ships still sail here every day. At night, all the bridges over the Neva River light up and open to allow for larger cargo ships to dock. What is a purely technical procedure has become one of St. Petersburg's most famous and fascinating views.
The White Nights Festival. Every year from May to the end of July, the White Nights Festival turns St. Petersburg into a 24-hour party. You will find fireworks on the river, street shows, parades, night exhibitions, and live music at every corner.
Dumskaya Ulitsa. Tourists after a party in St. Petersburg can start from this buzzing area. Here you'll find countless pubs and bars for every taste.
Tags: Saint Petersburg city
<< Gunib – a Village Close to the Sky
No comments yet.