World Cup in Russia - Logo and Mascot
In the logo of the 2018 World Cup you can see the silhouette of the FIFA World Cup. Exploration of space, iconography and love of football are the three components of the logo.
The official mascot of the World Cup in Russia was the wolf named Zabivaka meaning "the one who scores a goal".
Symbols and Map of World Cup 2018 in Russia
World Cup in Russia - Cities and Stadiums
The cities of Russia that hosted the World Cup 2018 matches:
The opening match and the final were held at Luzhniki Stadium in Moscow. One of the semifinal matches was played in St. Petersburg, the other one - in Moscow.
Groups for the 2018 FIFA World Cup Russia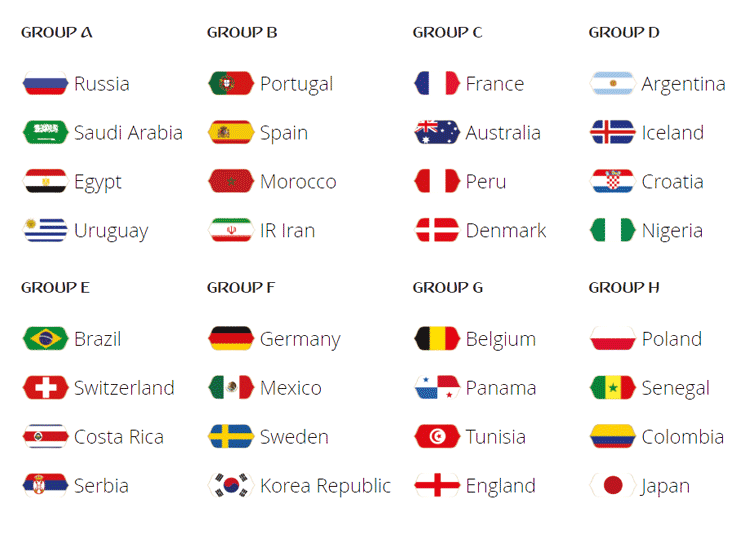 All Matches of the World Cup 2018 in Russia
Moscow
Luzhniki Stadium
June, 14, 18:00 MSK (UTC+3) - Match 1: Russia - Saudi Arabia (5:0)
June, 17, 18:00 MSK (UTC+3) - Match 11: Germany - Mexico (0:1)
June, 20, 15:00 MSK (UTC+3) - Match 19: Portugal - Morocco (1:0)
June, 26, 17:00 MSK (UTC+3) - Match 37: Denmark - France (0:0)
July, 1, 17:00 MSK (UTC+3) - Match 51: Spain - Russia (Round of 16) (1:1 (3:4p))
July, 11, 21:00 MSK (UTC+3) - Match 62: England - Croatia (Semi-finals) (1:2)
July, 15, 18:00 MSK (UTC+3) - Match 64: France - Croatia (Final) (4:2)
Otkrytiye Arena
June, 16, 16:00 MSK (UTC+3) - Match 7: Argentina - Iceland (1:1)
June, 19, 18:00 MSK (UTC+3) - Match 15: Poland - Senegal (1:2)
June, 23, 15:00 MSK (UTC+3) - Match 29: Belgium - Tunisia (5:2)
June, 27, 21:00 MSK (UTC+3) - Match 41: Serbia - Brazil (0:2)
July, 3, 21:00 MSK (UTC+3) - Match 56: Colombia - England (Round of 16) (1:1 (3:4p))
Saint Petersburg
June, 15, 18:00 MSK (UTC+3) - Match 4: Morocco - Iran (0:1)
June, 19, 21:00 MSK (UTC+3) - Match 17: Russia - Egypt (3:1)
June, 22, 15:00 MSK (UTC+3) - Match: 25: Brazil - Costa Rica (2:0)
June, 26, 21:00 MSK (UTC+3) - Match 39: Nigeria - Argentina (1:2)
July, 3, 17:00 MSK (UTC+3) - Match 55: Sweden - Switzerland (Round of 16) (1:0)
July, 10, 21:00 MSK (UTC+3) - Match 61: France - Belgium (Semi-finals) (1:0)
July, 14, 17:00 MSK (UTC+3) - Match 63: Belgium - England (Third place play-off) (2:0)
Kazan
June, 16, 13:00 MSK (UTC+3) - Match 5: France - Australia (2:1)
June, 20, 21:00 MSK (UTC+3) - Match 20: Iran - Spain (0:1)
June, 24, 21:00 MSK (UTC+3) - Match 31: Poland - Colombia (0:3)
June, 27, 17:00 MSK (UTC+3) - Match 43: South Korea - Germany (2:0)
June, 30, 17:00 MSK (UTC+3) - Match 50: France - Argentina (Round of 16) (4:3)
July, 6, 21:00 MSK (UTC+3) - Match 58: Brazil - Belgium (Quarter-finals) (1:2)
Nizhny Novgorod
June, 18, 15:00 MSK (UTC+3) - Match 12: Sweden - South Korea (1:0)
June, 21, 21:00 MSK (UTC+3) - Match 23: Argentina - Croatia (0:3)
June, 24, 15:00 MSK (UTC+3) - Match 30: England - Panama (6:1)
June, 27, 21:00 MSK (UTC+3) - Match 42: Switzerland - Costa Rica (2:2)
July, 1, 21:00 MSK (UTC+3) - Match 52: Croatia - Denmark (Round of 16) (1:1 (3:2p))
July, 6, 17:00 MSK (UTC+3) - Match 57: Uruguay - France (Quarter-finals) (0:2)
Samara
June, 17, 16:00 SAMT (UTC+4) - Match 10: Costa Rica - Serbia (0:1)
June, 21, 16:00 SAMT (UTC+4) - Match 22: Denmark - Australia (1:1)
June, 25, 18:00 SAMT (UTC+4) - Match 33: Uruguay - Russia (3:0)
June, 28, 18:00 SAMT (UTC+4) - Match 48: Senegal - Colombia (0:1)
July, 2, 18:00 SAMT (UTC+4) - Match 53: Brazil - Mexico (Round of 16) (2:0)
July, 7, 18:00 SAMT (UTC+4) - Match 60: Sweden - England (Quarter-finals) (0:2)
Sochi
June, 15, 21:00 MSK (UTC+3) - Match 3: Portugal - Spain (3:3)
June, 18, 18:00 MSK (UTC+3) - Match 13: Belgium - Panama (3:0)
June, 23, 21:00 MSK (UTC+3) - Match 27: Germany - Sweden (2:1)
June, 26, 17:00 MSK (UTC+3) - Match 38: Australia - Peru (0:2)
June, 30, 21:00 MSK (UTC+3) - Match 49: Uruguay - Portugal (Round of 16) (2:1)
July, 7, 21:00 MSK (UTC+3) - Match 59: Russia - Croatia (Quarter-finals) (2:2 (3:4p))
Rostov-on-Don
June, 17, 21:00 MSK (UTC+3) - Match 9: Brazil - Switzerland (1:1)
June, 20, 18:00 MSK (UTC+3) - Match 18: Uruguay - Saudi Arabia (1:0)
June, 23, 18:00 MSK (UTC+3) - Match 28: South Korea - Mexico (1:2)
June, 26, 21:00 MSK (UTC+3) - Match 40: Iceland - Croatia (1:2)
July, 2, 21:00 MSK (UTC+3) - Match 54: Belgium - Japan (Round of 16) (3:2)
Ekaterinburg
June, 15, 17:00 YEKT (UTC+5) - Match 2: Egypt - Uruguay (0:1)
June, 21, 20:00 YEKT (UTC+5) - Match 21: France - Peru (1:0)
June, 24, 20:00 YEKT (UTC+5) - Match 32: Japan - Senegal (2:2)
June, 27, 19:00 YEKT (UTC+5) - Match 44: Mexico - Sweden (0:3)
Kaliningrad
June, 16, 21:00 KALT (UTC+2) - Match 8: Croatia - Nigeria (2:0)
June, 22, 20:00 KALT (UTC+2) - Match 26: Serbia - Switzerland (1:2)
June, 25, 20:00 KALT (UTC+2) - Match 36: Spain - Morocco (2:2)
June, 28, 20:00 KALT (UTC+2) - Match 45: England - Belgium (0:1)
Saransk
June, 16, 19:00 MSK (UTC+3) - Match 6: Peru - Denmark (0:1)
June, 19, 15:00 MSK (UTC+3) - Match 16: Colombia - Japan (1:2)
June, 25, 21:00 MSK (UTC+3) - Match 35: Iran - Portugal (1:1)
June, 28, 21:00 MSK (UTC+3) - Match 46: Panama - Tunisia (1:2)
Volgograd
June, 18, 21:00 MSK (UTC+3) - Match 14: Tunisia - England (1:2)
June, 22, 18:00 MSK (UTC+3) - Match 24: Nigeria - Iceland (2:0)
June, 25, 17:00 MSK (UTC+3) - Match 34: Saudi Arabia - Egypt (2:1)
June, 28, 17:00 MSK (UTC+3) - Match 47: Japan - Poland (0:1)