Archive for May 2022
Soviet propaganda is the propaganda of communist ideas and the Soviet way of life. It was carried out purposefully and centrally under the leadership of the Communist Party of the Soviet Union and was officially called ideological work, enlightenment of the masses, and the like. Propaganda was conducted through the media, books, movies, theatrical plays, works of fine art, etc.
By the mid-1930s, the role of the propaganda machine in strengthening the Stalinist regime was clearly manifested. Propaganda created a personality cult of Stalin. The pilots were at the top of the hierarchy of Soviet heroes. They were simultaneously the "sons" of the "father" – Stalin and the "motherland". Source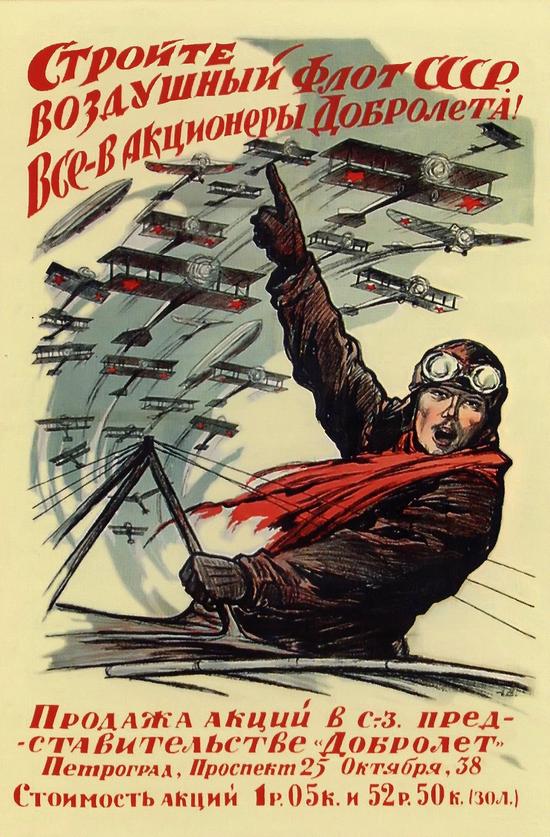 1923. Build the air fleet of the USSR. Everyone – a shareholder of Dobrolet*!
Sale of shares in the office of "Dobrolet". Petrograd, October 25th Avenue, 38. The prices of shares: 1 ruble 05 kopecks and 52 rubles 50 kopecks (golden share).
* The Russian joint-stock company of the voluntary air fleet "Dobrolet" was an air transport organization that existed in the Soviet Union in 1923-1932.
Tags: propaganda · Soviet past